This page is about the technology. For the collectible found in-game, see ECHOs.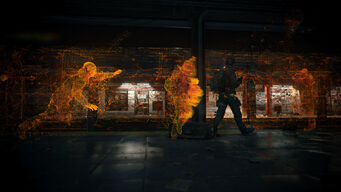 The Evidence Correlation Holographic Overlay (ECHO) system is a major game mechanic in Tom Clancy's The Division.
ISAC can collect and assemble data mined from local devices and sources such as smartphones, surveillance cameras, satellites, drones and computers. This data can then be rendered into a "point cloud" (a set of data points in space) that recreates events as 3D holographic images frozen in time and projected onto the agent's AR-HUD lenses. The images include audio of certain events, and sometimes identifying information about an event's participants.
This technique is called ECHO and lets agents not only gather intelligence but actually "see" critical evidence. The image segments replay in spectral orange hues and serve as useful resources in mapping out environments as well as tracing hos-tile movements, missing persons, or hidden caches of supplies and equipment.
The system also has a role in the game's "Missing Person" missions.
Appearances