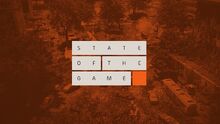 State of the Game (or SotG) is a usually weekly livestream done by the developers at Massive Entertainment as well as other studios, such as Red Storm Entertainment. These occur on Wednesdays at 17:00 CET (GMT +2). They usually occur in the studio in Malmö, Sweden. However, as of March 13, 2020, and until further notice, the streams take place with everyone on it using their face cams and mics from their home setups, due to the ongoing COVID-19 pandemic.
Topics almost always includes updates, patch notes, that occurred since the last stream, as well as any noteworthy events that has occurred in the community.
Also included are progress updates on an upcoming expansion, title update, or patch, including sneak peeks at patch notes if it is close to the deployment date.
Occasionally, there are special SotG's scheduled, such as with major expansions (or their announcements, such as the one for Warlords of New York) or with unexpected events (such as Tom Clancy's The Division's unexpected errors in relation to the release of the Underground expansion).
As of November 18, 2020, there are 175 State of the Game broadcasts.
In March 2021, Community Developer, Johan, stated on Twitter that it's currently undecided if the developers will return with State of the Game in the future.
Gallery
External Links